What Is JalJeev?
In case you are wondering what does JalJeev stands for, it means Water Creatures.
Jal means Water, and Jeev means Creature.
So as you might have guessed by now, we love underwater life, especially Aquatic Pets!
It is this fascination that led us to start JalJeev.com.
Who Is Behind JalJeev?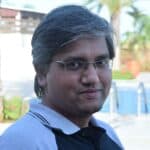 I am Abhijeet R., founder of JalJeev.
Me and my team of 3 writers write extensively about everything related to aquariums and aquatic creatures.
We love reading about underwater life, and this website is our outlet to share the information with you that we have gathered about various aquatic pets.
But please don't take any advice given on this website as the gospel of truth.
We are humans after all, and humans make mistakes.
If you find anything wrong with any of the information on this website, just contact us and let us know.
We will be happy to correct it.
Coming back to the human thing, We are humans (as we just mentioned!) and humans have limited capabilities.
They can only do so much work in so much time!
This means that it will take us a significant amount of time to write about every aquatic pet on planet Earth.
So, to begin with, we are just concentrating on writing about a few aquatic pets.
Why?
Because we are water fanatics and love everything about aquatic pets. Whether it's about caring for them, or feeding them, or just collecting more information about them, we love every aspect of it.
Fair enough?
Great!
So now let's move away from the human side and talk about the tech side.
We place ads on this site so that we can earn something to keep this site running.
We hope you don't hate us for that.
This money helps us make this website better and write more helpful information about all the aquatic pets.
We also offer advertising space for companies related to fishkeeping and aquatic pets in general.
All of the links that we place on this website to any products, and companies, we do them because we trust these companies. But we do not run their businesses. So if you run into any issues with any of these companies, please do let us know too.
Finally, we really hope you enjoy reading everything we have to say about aquatic pets on JalJeev.
If you have any questions or suggestions, just let us know.
Happy fishkeeping!
Abhijeet R.
Our Editorial Guidelines
Everything that we publish goes through our stringent editorial process.
We fact-check each and everything before publishing.
We also check for spelling, grammar, readability, foul language, etc.
Our guidelines are regularly updated to help us publish authentic information.
However, as mentioned above, we are humans! And humans can make mistakes.
If you find any misinformation on our site, please reach out to us, and we will be happy to correct it.